Events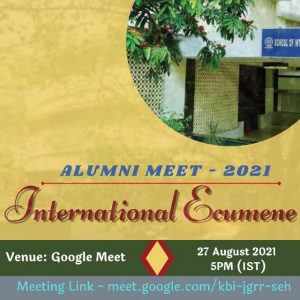 The first half of year 2020, through the ongoing pandemic predicament, witnessed some serious academic and research engagements by the faculty at the School of International Relations and Politics (SIRP).
Dr. Seethi, gave the keynote lecture at the Joint Platform of Indian Citizens, Kottayam, at the National Campaign for the Constitutional Rights of Citizens (28 January 2020) and also spoke at the forum in Mathrubhumi International Literature Festival (1 February 2020). He authored a book, Endless Sorrows: Endosulfan and Endangered Human Security in Kerala that was brought out by DPP/IUCSSRE (2020). There were also several publications that dealt with contemporary and contentious issues in the Global South Colloquy, an independent digital platform. These publications dealt with politics in South Asia and very significantly with socio political dimensions of the COVID 19 pandemic. Dr. A M Thomas, Professor, SIRP, was appointed Director of Research at the Mahatma Gandhi University, in June 2020. Dr. C Vinodan, the present Director of SIRP, participated and presented a paper in national conference on Bharat Shakti: The Inherent Energy of India and presented a paper titled 'The Making of 21st Century India: The Paradigm Shift in Foreign Policy During Rao Era' organised by the Department of Law and the Department of Politics and IR, Pondicherry University (March 9-11, 2020). He also presented the paper, 'Impact of Covid-19 in International Relations' during the COVID-19 Studies Conference (Ankara, Turkey, June 2020).  Dr. Bijulal gave an invited lecture 'Concept of Data Ability and Online Teaching in HEIs in India' as the one day national level webinar organised at Government Degree College Gajawel (Telengana) on 15 May 2020 and coordinated a significant Women's day interaction, with social activist, Nalini Jameela, following the then pandemic protocols. There were a number of media as well as web based publications by Dr. M V Bijulal and Dr. Lirar Pulikkalakath.   Through 'Net Factor' (July 4 2020) and 'Unusual Suspects' (July 18, 2020), that appeared in Times of India, Dr Bijulal, dealt respectively with themes like online education and social justice in the context of pandemic and the gender dimensions to privacy rights. There were further interventions digital education in forums like Policy Circle during this period as well as significant interviews in Malayalam that appeared in popular online portals like Azhimukham that look up challenges to federal democracy and constitutional order in contemporary Indian contexts. Meanwhile Dr. Lirar, engaged critically with the evacuation mission of the national government of India during the current pandemic, through 'Vande Bharat and Samudra Setu: The Much Awaited India's Biggest Evacuation Missions after Independence' (May 8 2020) that appeared in Countercurrents.org. His 'State Sponsored Statelessness in India in the Age of 'Sophia'' (January 1, 2020) in the same news and analysis website, evaluated the Citizenship Amendment Act (CAA) and the National Register of Citizenship (NRC) in India. 'Life in Dharavi in Times of Covid-19' (June 2020) that appeared in Global South Colloquy, as a portrayal of the pandemic predicament of one of the largest slums in Asia and World Refugee Day intervention in the Voice of Margin web publication, added on to his timely takes. Dr Mathew A Varghese was part of the multidisciplinary and multi-institutional research team from the Centre for Water Resources Research and School of Built Environment and Development Studies (UKZN, South Africa). The jointly authored, Enhancing Water Security through Restoration and Maintenance of Ecological Infrastructure: Lessons from Umngeni River Catchment, South Africa (2020), was published by the Water Research Commission and University of KwaZulu-Natal. An article ''Limits' Of Imagining the Pandemic Present' was published in the Rozenberg Quaterly. He was a member of the, Technical Working Group, that worked on the Local Biodiversity Strategy and Action Plan preparation for Kochi Municipal Corporation (May 2020) under Kochi Municipal Corporation and Interact-Bio, with support from Ministry of Environment Forest and Climate Change, Government of India. Dr. Mathew is also part of the programme committee for the planned symposium Identity in Motion that is to take place at Pirogov Medical University, Moscow, Russia later this year. The interdisciplinary symposium interrogates transforming institutional identities in fields as health care, education and academia, in the pandemic context as well. His two upcoming academic works include the article in the special issue of The Geographical Journal, from The Royal Geographical Society as well as the book that is to be published by the Indian Institute of Advanced Study (IIAS).
The individual faculty members of the SIRP also applied for research funds, projects supports, interdisciplinary and inter-institutional engagements during the past few months. This includes applications made to; the Scheme for Promotion of Academic and Research Collaboration (SPARC), and the Scheme for Trans-disciplinary Research for India's Developing Economy (STRIDE) by Dr. Mathew as the principal investigator and the application to Department of Science and Technology (DST) mission, with Dr. Bijulal as a co-investigator. In the realm of pedagogy, in addition to the restructuring along outcome-based approaches, we have also had a brainstorming at the faculty for innovative and interdisciplinary courses that engage with contemporary contexts.
In this first half of 2020, dense as the activities were, we at SIRP also bid a 'formal adieu' to Dr. K M Seethi, one of the most illustrious scholars from our fraternity with a phenomenal academic career.
Towards the second half of the year newer academic enquiries got initiated and research platforms initiated at the School of International Relations and Politics (SIRP), Mahatma Gandhi University in the context of the present pandemic. The School thereby is reaching out to the academic and research community as well as the wider public across places, through the research emphasis of its faculty. Thus the Director, Dr. C Vinodan is coordinating a webinar series on International Relations Theory. The opening lectures were given by Professor Shibashis Chatterjee, who is the director of the School of International Relations and Strategic Studies at Jadavpur University, Kolkata. One of the centres at the School, Centre for West Asian Studies through Dr. M V Bijulal is on with a seminar series called Transitions in Migrant Rights Governance: towards Inclusive and Rights Based Public Policy. The series started off with a talk from Sri. M P Joseph, Former Indian and UN Civil Servant and labour rights governance expert. The Centre for Indian Diaspora Studies, through its chairman Dr. Lirar Pulikkalakath, is initiating a webinar programme on Migrants and Displaced Persons amid Covid-19: Issues, Challenges and Policy Options. This event commences on the 15th of October 2020 and works synergistically with Flame University and Global Research Forum on Diaspora and Transnationalism (GRFDT). An upcoming platform for interdisciplinary urban enquiries is in the making at the School of International Relations and Politics. As part of the opening up of this platform for focused urban enquiries and engagements with global urbanising processes, an Urban Studies Lecture Series and interactives, is being coordinated by Dr. Mathew A Varghese. Prof. Sanjay Srivastava, British Academy Global Professor, University College London, gave the inaugural lecture and initiated the upcoming interactives. Earlier a series of Pandemic Podcasts, which were short volunteer audio feeds from seven different countries with a specific focus on pandemics during its initial months, as well as a small interdisciplinary web interactive series titled 'Conversations with Time', coordinated by Dr. Mathew, focusing post graduate course groups concluded by the end of August.